John C. Reilly and Steve Coogan channel Laurel and Hardy in this absolutely charming film about one of the world's great comedy teams.
BBC TV Director, John S. Baird uses a light touch meticulously detailing the close relationship of this talented pair on and off stage during  their last variety hall tour of Britain in 1953. Jeff Pope (Philomena) writes low-key, respectful dialogue to depict their affection for each other after years working together. 
It's clear that Reilly and Coogan love their characters and their research led to spot-on performances. They've spent a lifetime watching their films on TV. They don't impersonate the comedy duo, but literally seem to inhabit their personas. Reilly, especially, loses himself in the role with the help of remarkable makeup and prosthetics which took 3 hours a day to achieve. It is flawless.
This is a film where the director and editing stay out of the way of the brilliant characterizations portrayed by the actors. There is no over cutting or special effects to get in the way. John Paul Kelly's production design and Laurie Rose's cinematography are well done, but Reilly and Coogan's interaction is foremost. That is particularly depicted well in their stage performance where the two go round and round two doors on stage and you get to see how they work together. The comedic timing of Laurel and Hardy's bits was and still is brilliant and funny.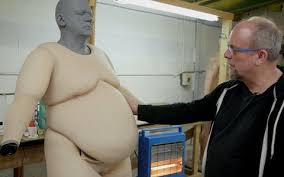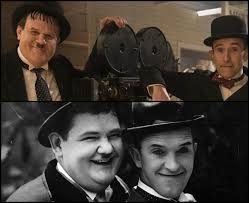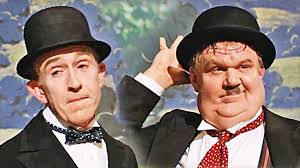 We wondered what performances could have been done by Reilly and Coogan of more Laurel & Hardy bits from the years before WWII. Except for some fleeting moments on the Hal Roach movie set and later in the film, do we get to see snips of the duo in their prime through actual movie clips. There is the famous piano pushed up and then sliding down that long flight of stairs with an update of same happening only with a crate in their travels. 
As soon as you hear their funny clarinet based theme, you'll smile. No one could do a little ditty dance like the so physically mismatched duo. Oliver Hardy's simple soft shoe style choreography, seen watching from the audience and watching from behind these two gentle show biz giants shows how in sync they could be. Reilly and Coogan make it look so natural.
The film follows the comedy icons on this last tour. The favorable reception they receive along with brief flashbacks from their film bits in the 30's and 40's refresh our appreciation for their talent and popularity. But it also shines a light on the ups and downs they experienced and frustration at not being able to break free from controlling producer, Hal Roach, (Danny Houston), go out on their own and garner more popularity. 
The director reveals how Laurel, considered the quiet, one, was actually a workaholic and the brains of the operation. Hardy was the one who enjoyed the spoils of Hollywood in his youth. He was a gambler who married and divorced multiple times and he developed serious health problems.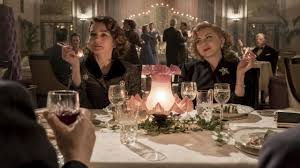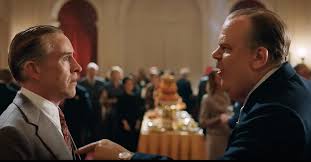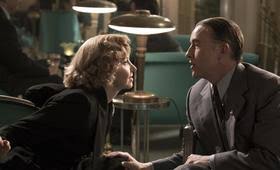 Baird shows them both finally finding the right wives and these ladies are characters in their own right. Laurel's Ida is one sophisticated lady (Nina Arianda (Broadway, TV, Film actress, Florence Foster Jenkins). Ida and Laurel, like he with Ollie, are another unexpected pairing. Her dry humor with an accent along with her devotion to her man add more to the film. 
Scotch actress, Shirley Henderson, playing Lucille, is shown so tiny compared to her husband. We found it sometimes hard to understand her speaking lines kind of under her breath. But an overhead shot looking down on the two in bed, fully clothed, having a heart-to-heart talk shows their loving relationship well. 
Baird explores the underlying sadness in the partnership. He shoots them in profile, but facing each other. Stan and Ollie dredge up long standing resentments bubbling just beneath the surface in a heartbreaking scene as they hurl insults at each other in front of a crowd.   
In the final analysis, Director Baird makes this a lovely tribute to these two comedy idols. He shows them as talented as well as intensely human. Comics are still inspired by their work. Dick Van Dyke freely admits stealing bits from these icons. Reilly and Coogan show they have learned their lessons about comedic timing well. There are wonderful scenes watching Reilly and Coogan rehearsing Laurel and Hardy's bits and dances. Their chemistry rivals the originals. See this film and you may thank us for getting you into  "this fine mess."
Sony Pictures Classics.         97 Minutes.        PG